Library
Aims
In June 2011, Woodlands inaugurated its new library, which provides a larger space and increased resources to serve our school community.
As always, the Library staff ensures that our library is a warm and welcoming environment with valuable and relevant materials, print or electronic, in order to achieve the following aims:
Encourage and promote reading as an enjoyable leisure activity.
Support and enrich our educational programs.
Provide for both curricular and personal interests so that our students may become lifelong critical and responsible readers and learners.
Ensure rational, responsible and effective use of school resources.
Strengthen ethical standards and aesthetic values.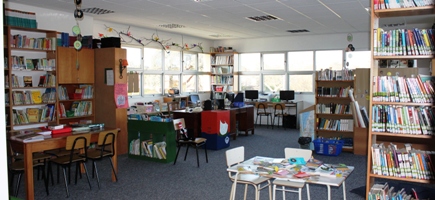 Opening times
The library is open
From 8 to 12:00
From 12:40 to 16:30
Resources
Library resources are evaluated and sought in order to contribute to and enhance learning, encourage reading and information literacy.
All resources are assessed to ensure their quality and relevance, and that they meet the ethical and aesthetic standards to which our school is committed.
Our growing collection currently includes:
Fiction, non-fiction and reference books.
Magazines.
Newspapers.
Wall charts, maps, newspaper clippings and magazine special articles.
Audio and DVD materials.
School photographs, publications and other memorabilia.